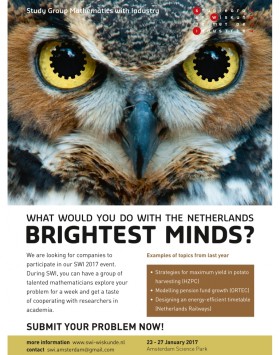 Study Group Mathematics with Industry 2017
SWI 2017 was held from January 23 to 27 at the Amsterdam Science Park. It  was co-organized by the Korteweg – de Vries Institute for Mathematics of the University of Amsterdam and the Centrum Wiskunde & Informatica (CWI), the Dutch Centre for Mathematics and Computer Science.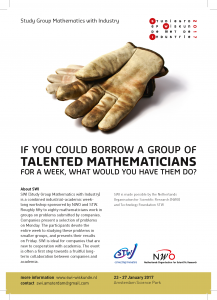 What is SWI?
SWI (Study Group Mathematics with Industry) is a combined industrial–academic week-long workshop sponsored by NWO and STW. Roughly fifty to eighty mathematicians work in groups on problems submitted by companies. Companies present a selection of problems on Monday. The participants devote the entire week to studying these problems in smaller groups, and presents their results on Friday.
SWI is ideal for companies that are new to cooperation with academia. The event is often a first step towards a fruitful long-term collaboration between companies and academia.
Examples of topics from last year:
Strategies for maximum yield in potato harvesting (HZPC)
Modelling pension fund growth (ORTEC)
Designing an energy-efficient timetable (Netherlands Railways)
How to participate
If you want to contribute a problem to SWI 2017, please contact Chris Stolk. The costs of participating as a company are €1500. In addition, a representative of your company is expected to be available at various moments during the week of 23-27 January 2017 at Amsterdam Science Park.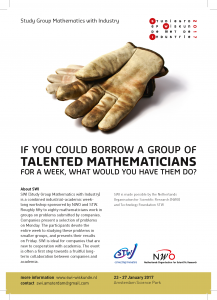 All mathematicians from PhD level and higher are welcome to participate in the study groups of SWI 2017.  You can register on our registration form.
Participation is free of charge, including the lunches and dinners mentioned in the program. Accommodation can be arranged for participants from outside the Amsterdam region.
Monday January 23
09:30 – 10:00
Arrival and coffee/tea
Science Park Congress Centre
10:00 – 10:10
Official opening
10:10 – 10:20
Welcome
10:20 – 11:35
Company presentations
11:35 – 11:50
Coffee/tea
11:50 – 13:05
Company presentations
13:05 – 14:00
Lunch
14:00 – 14:30
Group formation
14:30 – 17:00
Group discussions with company representatives
Meetingrooms CWI
17:00 – 18:30
Drinks
Forum (at CWI)
Tuesday January 24
09:00 – 12:30
Group discussion
Meetingrooms CWI
12:30 – 13:30
Lunch
L 121 (CWI)
13:30 – 17:30
Group discussion
Meetingrooms CWI
Wednesday January 25
09:00 – 12:30
Group discussion
Meetingrooms CWI
12:30 – 13:30
Lunch
L 121 (CWI)
13:30 – 17:30
Group discussion
Meetingrooms CWI
18:30 – 23:00
Conference dinner
restaurant Humphreys
Thursday January 26
09:00 – 12:30
Group discussion
Meetingrooms CWI
12:30 – 13:30
Lunch
L 121 (CWI)
13:30 – 18:30
Group discussion + preparation presentation
Meetingrooms CWI
18:30 – 19:30
Snacks and drinks
L 121 (CWI)
19:30 – 21:00
Preparation presentation
Meetingrooms CWI
Friday January 27
09:00 – 10:30
Group presentations
Science Park Congress Centre
10:30 – 11:00
Coffee and tea
11:00 – 12:30
Group presentations
12:30 – 12:35
Closing
12:35 – 13:30
Lunch
There are no media appearances of SWI 2017 yet. You may wish to have a look at the YouTube movie of SWI, that gives a good impression of the Studygroups Mathematics with Industry:
Companies that wish to propose a problem for SWI 2017 are kindly requested to contact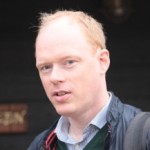 Chris Stolk
Email
Mathematicians that wish to participate in solving the problems may send request for information to swi.amsterdam@gmail.com. Registration is possible through the registration form.
Organization
Local organization:
Chris Stolk (UvA – chairman)
Daniëlle Kollerie (CWI)
Marieke Kranenburg (UvA)
Scientific Committee:
Daan Crommelin (CWI)
Stella Kapodistria (TU/e)
Peter van de Ven (CWI)
Guus Regts (UvA)
Chris Stolk (UvA)
Venue
The event takes place at various locations at Amsterdam Science Park. The starting event on Monday takes place at the Amsterdam Science Park Congress Centre (Science Park 125).
Directions by car:
Exit the A10 ringroad at S113/Watergraafsmeer. Follow the Science Park signs; these will direct you to the Kruislaan. Turn left onto the Carolina MacGillavrylaan after passing through the railroad tunnel. Take the Science Park entry at your right and enter the gate. You can park your car at any parking lot after the gate. Follow the signs to number 125, the main entrance. Exit passes will be provided by the organization, so you will not be charged for parking costs.
Directions by public transport:
CWI is a five minute walk away from NS station Amsterdam Science Park. This station is served four times an hour from the directions Amsterdam Centraal – Schiphol and Almere – Amersfoort. Walk through the tunnel after leaving the platform for the science park (northeast exit), cross the street (Carolina MacGillavrylaan) at the crosswalk and walk past the brown building of Amsterdam University College. You will be able to see the Congress Centre on your left behind the parking lot.
Bus 40 serves Amsterdam Science Park four times an hour from stations Amsterdam Muiderpoort and Amsterdam Amstel. Get off at Science Park University College. During rush hour bus 240 can be used, too. The hotel used for the event is very close to train station Amsterdam Amstel, take bus 40 or 240 to Science Park.
SWI 2017 News
No news available
Companies & Problems
ABN Amro – The Fair Value of a Mortgage
Centraal Planbureau – Economic Optimal Water Safety
Equalis – Equalizing the Cost of Health Insurance
MARIN – Quiescent Periods for Helicopter Landing on Ships
Shell – Numerical-physical Modeling of Miscible Fluids in Pipeline Transport
TNO – Analyzing and Predicting Impact Created by Accidents on Road Networks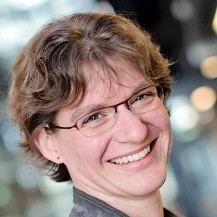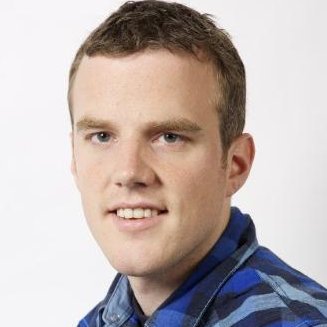 Organization committee SWI2017
Participating mathematicians