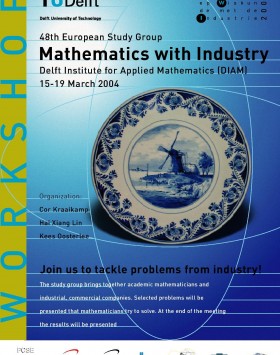 Study Group Mathematics with Industry 2004
SWI 2004 was held  at the Technical University of Delft. Problems were submitted  by AOT, CBS, Demis, Oude Kerk Delft, Rekenkamer, Twaron and X-flow.
SWI 2004 werd georganiseerd door de afdeling Toegepaste Wiskunde van het de TU Delft en de sectie
Industriële en Toegepaste Wiskunde van het Wiskundig Genootschap.
Financiële onder-steuning kwam vanuit het programma Wiskunde Toegepast van de Technologiestichting STW en NWOExacte Wetenschappen (NWO-EW).
De STW-bijdrage kwam van de ministeries van OC&W.
SWI 2004 News
No news available
Companies & Problems
CBS – Statistical Disclosure Control
Demis – Zoning Problem in Determining Environmental Impacts of Traffic
Oude Kerk Delft – The Bourdon Bell and the Skewed Tower
Rekenkamer – Is there a Financial Life After an Error?
Twaron – The Rotor Spinning Process for Fibre Production
X-flow – Leakage Detection Method
SWI 2004 is financially supported by
Participating mathematicians