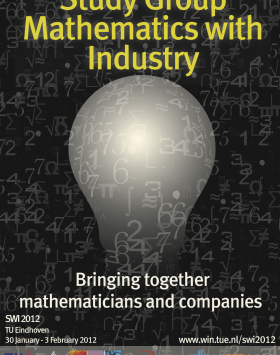 Study Group Mathematics with Industry 2012
SWI 2012 was held at the Eindhoven University of Technology. Problems were submitted by Bartels Engineering, Tata Steel, Endinet, Thales, Philips Lighting, and MARIN.
Organisation committee SWI 2012:
Adrian Muntean (TU/e),
Alessandro Di Bucchianico (TU/e),
Jan Draisma (TU/e),
Remco van der Hofstad (TU/e),
Mark Peletier (TU/e),
Antonios Zagaris (Univ. of Twente),
Marko Boon (TU/e),
Jan-Jaap Oosterwijk (TU/e),
Dion Gijswijt (TU Delft),
Patty Koorn (Eurandom).
Programme SWI 2012
MONDAY Jan 30
TUESDAY Jan 31
| | | |
| --- | --- | --- |
| 09.00 – 17.15 | Group discussion | |
| | | |
| 10.30 | Coffee/tea break | |
| | | |
| 12.30 – 13.30 | Lunch | Senaatszaal, Auditorium |
| | | |
| 13.30 – 17.15 | Group discussion | |
| | | |
| 15.00 | Coffee/tea break | |
| | | |
| 19.00 | Conference dinner | Restaurant "De Verlenging", PSV stadium |
WEDNESDAY Feb 1
| | | |
| --- | --- | --- |
| 09.00 – 15.00 | Group discussion | |
| | | |
| 10.30 | Coffee/tea break | |
| | | |
| 12.30 – 13.30 | Lunch | Canteen Traverse |
| | | |
| 15.00 | Coffee/tea break | |
| | | |
| 16.00 – 17.15 | Discussion and drinks | |
| | | |
| | | |
| 20.00 | Dessert at Maison Peletier | |
THURSDAY Feb 2
| | | |
| --- | --- | --- |
| 09.00 – 17.15 | Group discussion | |
| | | |
| 10.30 | Coffee/tea break | |
| | | |
| 12.30 – 13.30 | Lunch | Restaurant "De Zwarte Doos" |
| | | |
| 15.00 | Coffee/tea break | |
| | | |
| 18.30 | Informal dinner (pizza and drinks) | Eurandom, Laplace building |
| | Preparation of presentation….. | |
| | | |
| 22.00 | Laplace building closes | |
FRIDAY Feb 3
| | | |
| --- | --- | --- |
| 09.30 – 09.45 | Coffee/tea | Laplace building LG 1.105 (green room) |
| 09.45 – 10.15 | Problem Endinet | Presentation of results |
| 10.15 – 10.45 | Problem Philips | Presentation of results |
| 10.45 – 11.15 | Problem Marin | Presentation of results |
| 11.15 – 11.30 | Coffee/tea break | |
| 11.30 – 12.00 | Problem Thales | Presentation of results |
| 12.00 – 12.30 | Problem Tata Steel | Presentation of results |
| 12.30 – 13.00 | Problem Bartels Engineering | Presentation of results |
| 13.00 – | Closing and Lunch | Canteen Traverse |
SWI 2012 News
No news available
Companies & Problems
Bartels – Building a Mountain in The Netherlands
Endinet – Future Challenges in the Electricity Grid
MARIN – Structural Integrity of Marine Structures
Philips – A New Ray-tracing Method for Non-imaging Optics
TataSteel – Image Recognition of Shape Defects in Hot Steel Rolling
Thales – Optimization of the Lifetime of Sensor Networks
SWI 2012 is financially supported by
Participating mathematicians