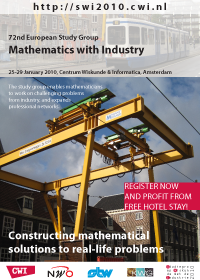 Study Group Mathematics with Industry 2010
SWI 2010 was held at the Centrum Wiskunde & Informatica in Amsterdam. . Problems were submitted by ESA, KEMA, MARIN, Phytocare, and Stork.
Organisation committee SWI 2010:
Rob van der Mei,
Joost Bosman,
Chretien Verhoef,
Niek Bouman,
Arnoud den Boer,
Jason Frank,
Susanne van Dam.
Programme of the 72nd Study Group for Mathematics with Industry 2010
Monday January 25
| | |
| --- | --- |
| 09.30-10.15 | Reception with coffee and tea |
| 10.15-10.30 | Opening by Jan Karel Lenstra (director CWI) |
| 10.30-12.00 | Problem presentations ESA, KEMA, Phytocare |
| 12.00-13.00 | Lunch |
| 13.00-14.00 | Problem presentations MARIN, Stork |
| 14.00-14.30 | Coffee and cold drinks |
| 14.30-17.00 | Initial group discussions with company representatives |
| 17.00-18.00 | Welcome reception |
Tuesday January 26
| | |
| --- | --- |
| 09.00-13.00 | Group discussions |
| 10.00-10.30 | Coffee and tea |
| 13.00-14.00 | Lunch in cafe / restaurant "Polder" |
| 14.00-18.00 | Group discussions |
| 16.00-16.30 | Cold drinks |
Wednesday January 27
| | |
| --- | --- |
| 09.00-13.00 | Group discussions |
| 10.00-10.30 | Coffee and tea |
| 13.00-14.00 | Lunch |
| 14.00-15.00 | Group discussions |
| 15.00 | Cold drinks |
| 15.00-17.00 | Group discussions with company representatives |
| 17.30-18.00 | Drinks in "Polder" |
| 18.00-21.00 | Conference dinner in "Polder" |
Thursday January 28
| | |
| --- | --- |
| 09.00-13.00 | Group discussions |
| 10.00-10.30 | Coffee and tea |
| 13.00-14.00 | Lunch |
| 14.00-17.00 | Group discussions |
| 15.30-16.00 | Cold drinks |
| 17.00-18.00 | Pizza's |
| 18.00-21.00 | Preparations for presentations by the groups |
Friday January 29
| | |
| --- | --- |
| 09.00-13.00 | Preparations for presentations by the groups |
| 10.00-10.30 | Coffee and tea |
| 13.00-13.30 | Lunch |
| 13.30-15.30 | Presentations results ESA, KEMA, Phytocare |
| 15.30-16.00 | Coffee and cold drinks |
| 16.00-17.00 | Presentations results MARIN, Stork |
| 17.00-17.30 | Closing and drinks |
SWI 2010 News
No news available
Companies & Problems
ESA – Position Estimating in Peer-to-Peer Networks
KEMA – Optimal Distributed Power Generation Under Network-Load Constraints
MARIN – Thruster Allocation for Dynamical Positioning
Phytocare – Modeling and Optimization of Algae Growth
Stork – Modeling Compressible Non-Newtonian Chicken Flow
SWI 2010 is financially supported by
Participating mathematicians